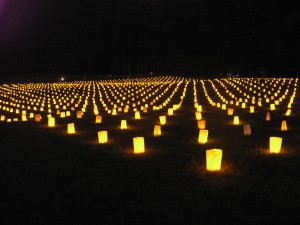 Lowery & Associates assisted park volunteers at Kennesaw Mountain National Battlefield Park with the layout of over 3100 candles to commemorate the 150th anniversary of the civil war battle that took place there. Each candle represented a soldier that died in the battle.
Using GPS and a total station, an alignment was created based on natural features and a historical marker. A grid was then calculated based on the proposed candle locations and around 300 points were placed on the ground using GPS. From there, park volunteers and Boy Scouts used strings pulled from the 300 staked points to create the additional points.
Additional Battlefield Information
150 years ago, history was made at Kennesaw Mountain…
Kennesaw Mountain National Battlefield Park will offer three days of commemorative programs, battlefield tours, and living history demonstrations at sites throughout the park on June 26-29, 2014.
June 27, 2014, marks 150 years since Union Major General William T. Sherman launched his frontal assault at Kennesaw Mountain against the Confederate Army of Tennessee, led by General Joseph E. Johnston. The battle was a tactical defeat for the Union army, and was General Sherman's last frontal assault of the Atlanta Campaign. Join the National Park Service, the Kennesaw Mountain Trail Club, and our partners as we commemorate this historic event.
Read More from this article on the National Park Service Website